Posted: February 18th, 2017 by Lyndel.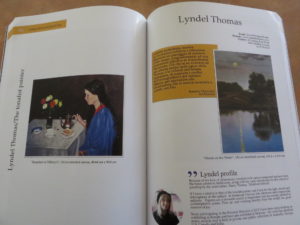 I was so honoured to have my two oil paintings represented by the Academia Italia in Arte Nel Mondo in Brindisi, Italy at the event Omaggio a Rembrant.  This is the beautiful book that I just received in the post.  Titles of my paintings are from left to right – Breakfast at Tiffany's and A prayer – Moon on Water
Posted: January 21st, 2017 by Lyndel.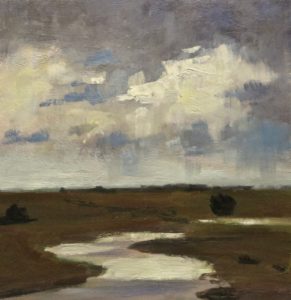 I've decided to send this daily painting to Verona.  BEFORE THE STORM – oil on panel 20.32 square [After note – Sold on opening night.  Private collection Germany]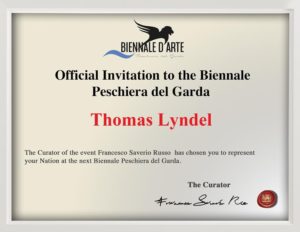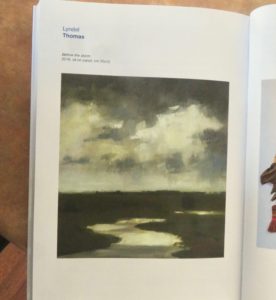 The catalogue for the event.  My painting was sold to a very nice German artist.  I am so thrilled.
Posted: January 20th, 2017 by Lyndel.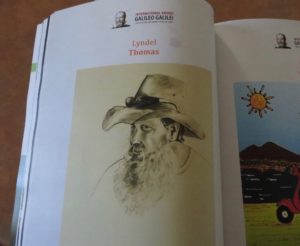 My drawing 'Aussie Bluegrass' has been selected for inclusion in the International Galileo Galilei award in Pisa, Italy in January 2017 also printed in the International Contemporary Art Magazine.
Posted: January 20th, 2017 by Lyndel.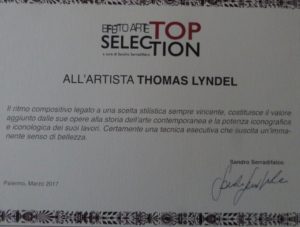 I am thrilled to have been invited to exhibit in the Effetto Arte top selection at the Effetto gallery in Palermo Italy April 8 – 30th 2017. The following five paintings will be published in the catalogue and quarterly magazine. Only the peaches will be travelling to Italy.   The black cat ballet school is sold.
Posted: December 21st, 2016 by Lyndel.
JAPONICA – oil on canvas – 40cm x 60 cm  – SOLD.  It was such a pleasure to have been invited to take part in the above exhibition at the wonderful UFFIZI gallery in Florence in November '16.  The added bonus was the presentation in the catalogue for the event and publication in the ART International Contemporary Magazine Nov/Dec 2016.  And thank you Salvatore Russo for the generous critique.
Posted: December 6th, 2016 by Lyndel.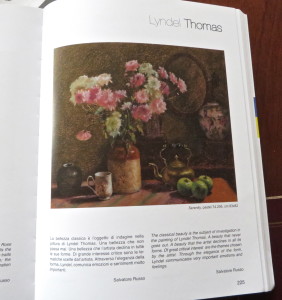 Salvatore Russo – "The classical beauty is the subject of investigation in the painting of Lyndel Thomas.  A beauty that never goes out.  A beauty that the artist defines in all its forms.  Of great critical interest are the themes chosen by the artist.  Through the elegance of the form, lyndel communicates very important emotions and feelings"
Posted: November 2nd, 2016 by Lyndel.
I have been invited to send a painting to the U.K for this wonderful art auction in aid of the C.A.L.F. animal sanctuary.  I will post the painting on this page when it is finished…Title;  The Black Cat Ballet School. UPDATE – SOLD AT AUCTION
Posted: October 25th, 2016 by Lyndel.
My three oil paintings currently on show at the Louvre video Esposition.  Thank you EA for this wonderful showing of my work. TEA FOR TWO, WAITING FOR THE HATTER, SPOT THE CAT.   All oil on canvas.
Posted: October 10th, 2016 by Lyndel.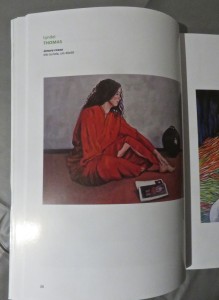 Shakespeare in Art, Verona, New York and Washington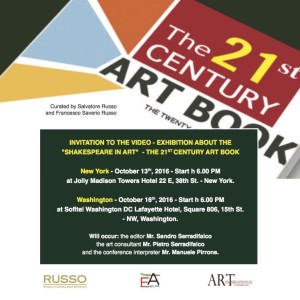 Posted: October 3rd, 2016 by Lyndel.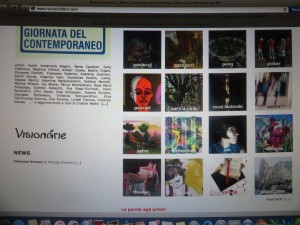 I am taking part in the group exhibition at the RossoCinabro Gallery, Rome called 'Composite Identity'.  Opening Saturday 15th October and ends 30th October curated by Cristina Madini.  Exciting times!  Thank you RossoCinabro Gallery.
« Previous Entries Next Entries »